Inside LAs #1 Wine and Food Festival and Why You Should Attend
Wine benefits include: increases bone density, boosts immune system, antioxidants-aka fights off free radicals-, reduces the risk of heart disease, improves cognitive function and lowers cholesterol. Need I say more? Pour the damn glass of wine.
Summertime is coming to an abrupt end, but the weather has us holding onto it like our favorite stuffed bear we couldn't let go of that mom had to eventually throw away. The sun is starting to set earlier and summer nights aren't quite what they were, so when I rested my eyes on the best food and wine festival based in Los Angeles, I knew this was the wine therapy I've been needing to finish off the summer strong. Not to mention I could taste the exquisite masterpieces the top chefs were cooking up for me in the back and ready explore the wine world inch-by-inch.
We arrived in sunny Santa Monica at the Barker Hanger for an exclusive food and wine tasting with 200 private guests and plans to make our way afterwards to DTLA for their largest and most renowned section of the fest, the LIVE on Grand hosted by Curtis Stone and Tiffani Thiessen. It was about to be a very long day, but who complains when there's every wine in the state of California on tap and hors d'oeuvres presented brightly to you on a platter by cocktail waitresses.
Welcomed by a large table filled with 200 tall and sparkeling wine glasses,
I wrapped my fingers around the delicate stem and elegantly made my way into a gigantic dome shaped venue to begin the tastings of my favorite red wines: cabernet sauvignons and bourdeax blends.
We agreed to pick our way through the 35,000 square foot dome, stopping at each stylized booth we recognized to try every other wine they produce while others around us joined in together chiming, "oooohhhhhhs" and "ahhhhhssss" at the array of different wines.
As we wandered through, sipping on this and that, the neatly stacked rows of food and wine booths opened up into large mini lounge areas to relax and sip on our own time. Streamers elegantly swooped over our heads as the DJ played the latest hits, attendees dancing to the beat while their wine carelessly sloshed over the sides. The energy is excited but collected, many laughing and tipsy as they live it up with first dates or friends. People were happily enjoying the stress free, friendly environment- tasting the lovely food and wine, focusing solely on the present moment of.. well, food and wine!
So… you're a wine expert huh?
Let me tell you, the reputable list of the finest wineries continues down the page longer than you think... Over 200+ wineries graze the surface of this food and wine fest! Some specialize in full body cabernet sauvignons, lite and refreshing rose, calm and balanced chardonnay or even bordeaux blends like you've never tasted before.
Buttery, toasty, smokey, earthy, peppery, oak-y...
From No Fine Print, Adelaida, Nomadica, S.R. Tonella, to Philip Togni… theres a prestigious choice for every personalty, palate and mood. I couldn't see a wine lover not finding something they had to go back for one more taste!
Soo.. you hate wine eh??
Not to worry! As of course this is a food and wine fest, so you'll be rather full with other flavors.. But what are you supposed to wash it down with?
The Food and Wine Festival not only delivers the best wine, but sprinkled in-between the wine connoisseurs are more bold, adventurous spirits lying around. From Hendricks Gin, Golden Road Brewery, Glennfiddich Whiskey, Don Julio Tequila, to S. Pellegrino mineral water, i have a hard time believing you still couldn't enjoy this vastly limitless adult-only event, even if you hate wine.
As i wandered around the Santa Monica Barker Hanger with my wine glass, in between bold and fruity cabernet sips, I was balancing (or should I say enhancing) my pallet with different samples of the chef's best dishes from around the world.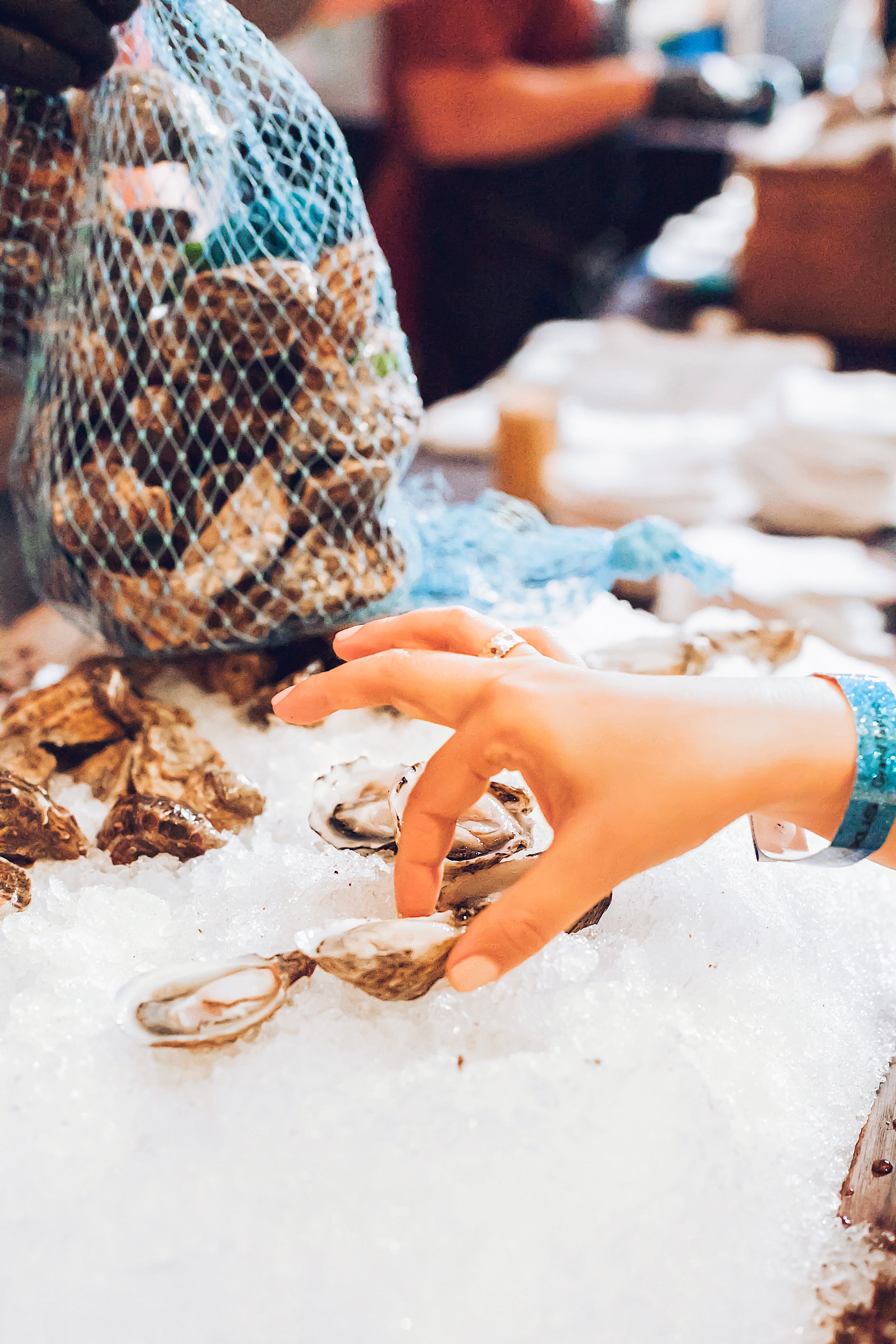 The chicken Masala had my mouth (and nose) watering for more and I know my Idaho fried chicken is wonderful but dang! That pickled fried chicken sandwich made me second guess what I was really wanting here. Do I eat more food, or do I drink more wine?
The mid-day wine tasting was an intimate success. A little tipsy and very satisfied, we let the buzz wear off and left to the beach before going to Downtown LA for the LIVE event at dusk. The late afternoon sun blazing onto us after starting the day off right, I gently closed my eyes and let the fruity, oak-y, chicken masala and rose-y bordeaux flavors sink and roll around in my mouth as I dozed off for a couple hours.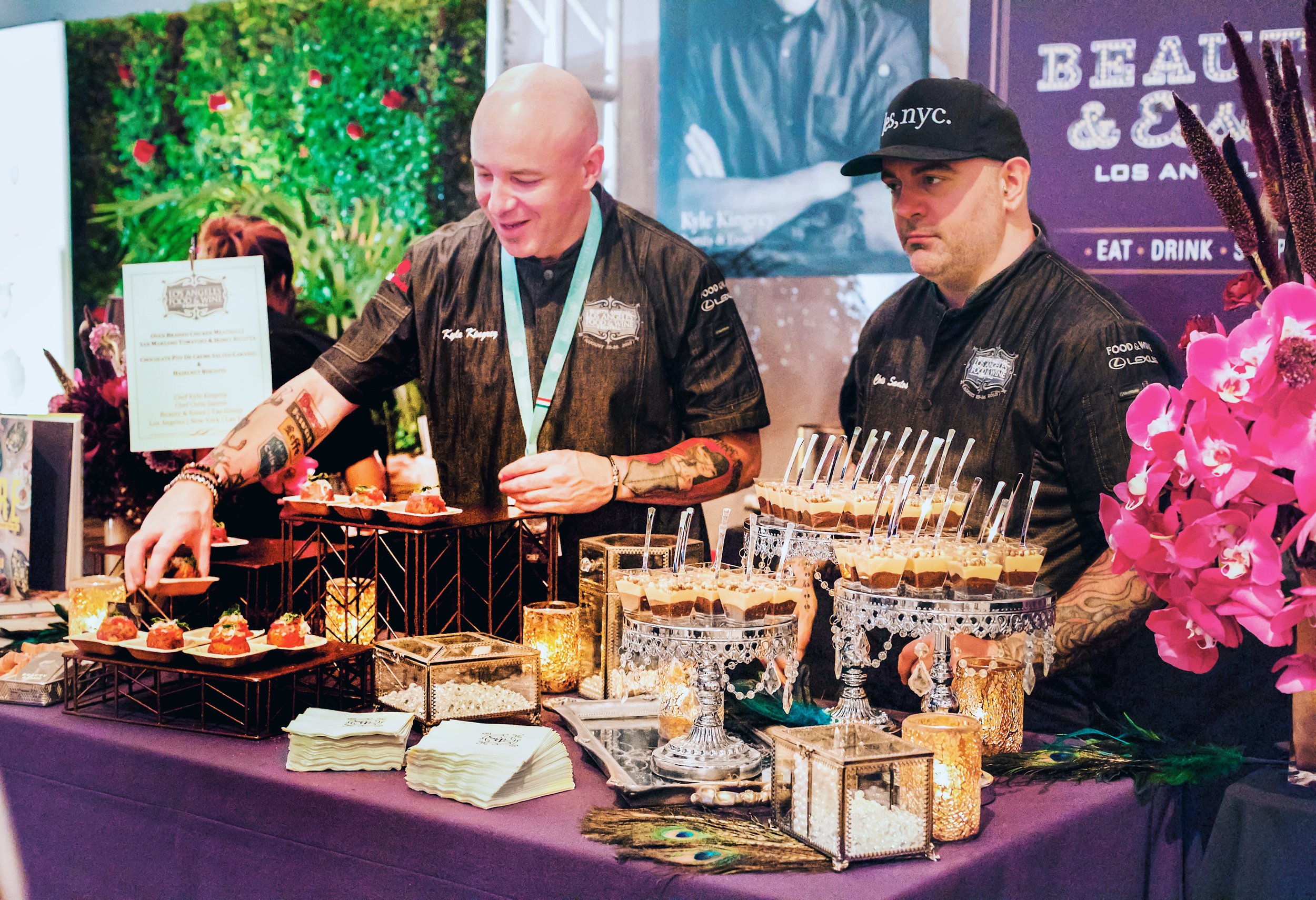 Arriving post nap and one outfit change later, we walked up in the heart of Downtown to a line of people an entire block long and security officers one-by-one letting wine lovers into wine heaven. An early access VIP pass came in handy as we got the first steps onto the block wide, cherry red carpet that reached nearly every edge of the street, transforming it into an elegant view with skyscrapers tracing the orange sunset in front of you.
My heels sunk into the lush carpet and a flash of a camera swarmed my gaze as I struck a pose for a photographer (aka Garrett, thanks for making me feel special!). Wandering into the center, tall skyscrapers, office buildings and parking structures nestled us in with a panoramic view of the gorgeous Downtown LA. Orange sun was beaming across the crowds of people as it began to set -and string lights led us in further, while the delicious smells filling our noses brought us to dinner cuisine tastings from the top chefs from around the world.
We explored the block party, met with our friends and had one too many drinks (or should I say should've had one more?). I ate my heart out, and my stomach was still slightly 2 months pregnant from the earlier tasting. Everything was polished, rich and done so perfectly that I couldn't keep my eyes and stomach from wanting more. But wait? There's no such thing as a finished dinner without... dessert!
Curtis Stone took over the loud speaker and welcomed the guests to their LIVE on Grand Avenue event, reminding us of the history and excitement of the 8th year and counting of the LA Food and Wine Fest.
Eventually the sun fell behind the buildings and a groovy DJ turned up the music while we danced, drank wine, ate food and ended in an actual coma.
LA Wine and Food Fest knows how to throw a luxury wine tasting and food sampling party the RIGHT way. I can't wait to come try all of next years wine to celebrate the end of summer, great wine and good company.
Like a good glass of wine, I like my weekends full of balance, time to breathe and ending on a high note. How do you like your wine therapy?